BACnet/IP
Product Overview
[!--firstContent--]
The BACnet/IP driver for KEPServerEX provides an interface to connect, monitor, and control building automation devices—providing real-time data to a myriad of software applications, from building and energy management systems to enterprise IT networks. It provides connectivity to equipment using the BACnet protocol over Ethernet (often referred to as "BACnet/IP" or "Annex J"). Devices on other BACnet network types may be accessed using BACnet gateway devices.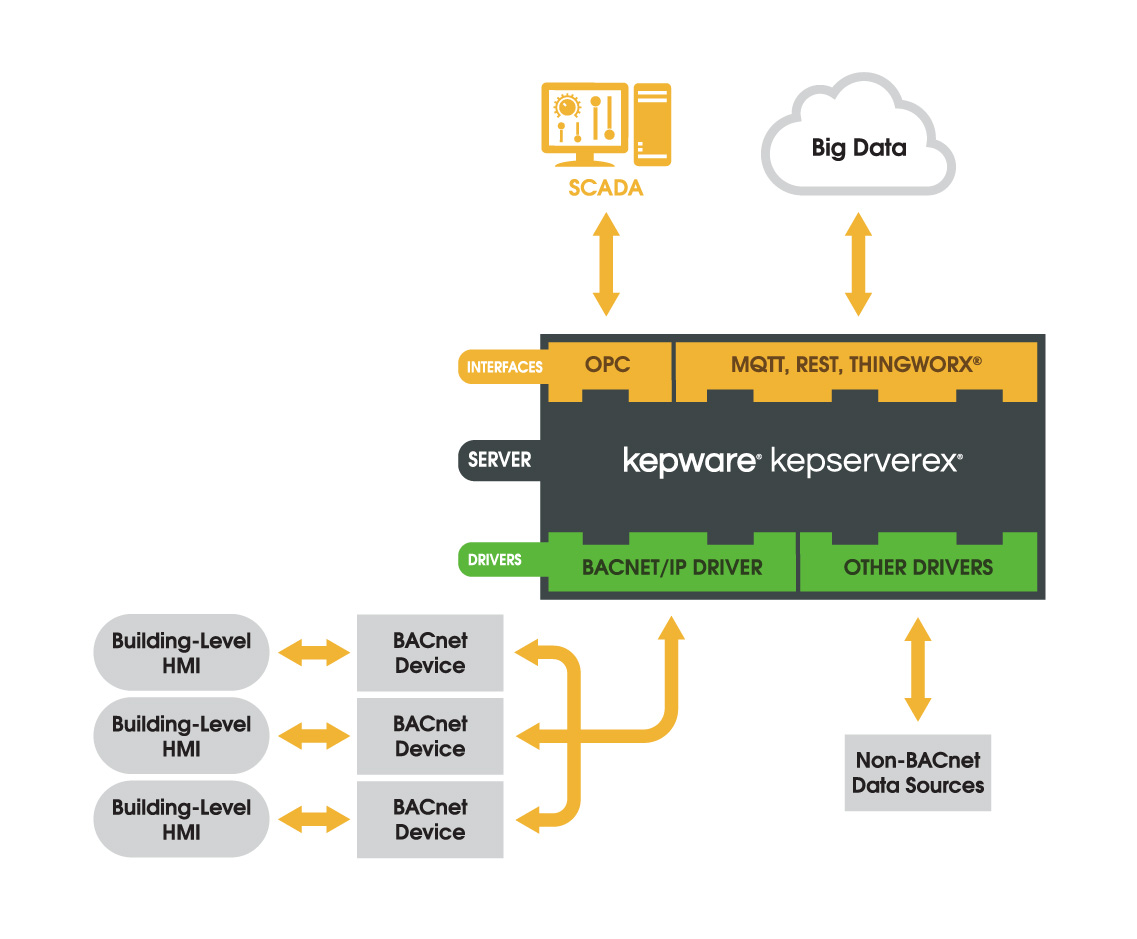 Resources
Performance
Protocols
Available Languages
Application Support
Release Notes
Additional Tech Info
Featured Suites
Performance
Integrates BACnet data into OPC-compliant HMI/SCADA applications
Enables BACnet data to be accessed by leading automation, HMI/SCADA, ERP, Big Data, asset management, and analytics packages via OPC, proprietary protocols, and IT protocols (including MQTT, REST, ODBC, and SNMP)
Supports Automatic Device Discovery
Supports Command Priority, which prioritizes write requests
Supports Application Protocol Data Unit (APDU), which affects message segmentation
Includes Automatic Tag Generation through device interrogation
Supports the following Standard Objects, including most of the required properties: Accumulator, Analog Input, Analog Output, Analog Value, Averaging, Binary Input, Binary Output, Binary Value, Calendar, Command, Device, Event Enrollment, File, Group, Life Safety Point, Life Safety Zone, Loop, Multi-State Input, Multi-State Output, Multi-State Value, Notification Class, Program, Schedule, and Trend Log
Supports Confirmed and Unconfirmed Event Notifications for both intrinsic and algorithmic notifications for several Event States, including Change of Value, Change of State, Out of Range, Unsigned Range, and Command Failure
Available Languages
English
German
Japanese
Simplified Chinese
Application Support
DDE Format CF_Text and AdvancedDDE
NIO Interface for iFIX
OPC .NET Service (OPC .NET) Version 1.00
OPC Alarms and Events (OPC AE) Version 1.10
OPC Data Access (OPC DA) Versions 1.0a, 2.0, 2.05a, and 3.0
OPC Unified Architecture (OPC UA) Version 1.02
SuiteLink and FastDDE for Wonderware
Release Notes
6.5.829.0
6/19/2018
Fixed an issue that could crash the server runtime.
6.4.405.0
6/11/2018
Fixed an issue that could cause server instability.
6.2.460.0
7/6/2017
Added Chinese language support.
6.2.429.0
6/8/2017
Fixed an issue where COV mode was changed to polling after a DNR response from the device that resulted in multiple ReadPropertyMultiple requests being issued with no SubscribeCOV request issued. The driver now sends a SubscribeCOV request for the objects that were using COV before the connection was interrupted.
6.0.2107.0
11/15/2016
Device discovery is now accessible as a right-click option on a BACnet channel in the Project Tree View.
Network Settings, Foreign Device, and Advanced Settings are now consolidated into a new Protocol Settings group.
The Allow COV Notifications with Empty NPDU property has changed to the COV Notifications property with options: Require NPDU and Allow Empty NPDU.
APDU, Command, and COV settings are now consolidated into a Protocol Settings group.
COV Resubscription Interval (HH:MM:SS) has been changed to Resubscription Interval (seconds).
Increased BACnet device discovery maximum timeout from 30s to 300s.
Added German language support.
Added Japanese language support.
5.20.396.0
5/3/2016
Fixed an issue where the driver could incorrectly report bad quality for tags in response to a device's BACnet-ComplexACK to the driver's ReadPropertyMultiple request.
Fixed an issue introduced in the 5.18 release, where channel-level Device Discovery did not discover all the devices on a network.
Resolved an issue were the driver incorrectly triggered the error state if it received a single error to a ReadPropertyMultiple request. The error state should only be set if the device is not responding.
Enhanced the driver to support the Accumulator object.
Added support for individually assigning a BACnet command priority to tags from a connected BACnet device. Previous versions allowed only one command priority to be used for all tags from a BACnet device.
Added support for Confirmed and Unconfirmed Event Notifications for several Event States; including Changes of Value, Changes of State, Out of Range, and Unsigned Range.
Added support for IBM/Microsoft DBCS character set.
Included a Protocol Implementation Conformance Statement (PICS), documenting current BACnet supported properties and services.
Assigned BACnet Vendor Identification Number 873, used in network WhoAmI communications.
5.17.495.0
2/24/2015
Fixed an issue where automatic tag generation failed if the device did not support segmentation. This issue was introduced in KEPServerEX version 5.15.
Enhanced the driver to support manual configuration of the BACnet MAC address. This allows the driver to communicate through a gateway to other BACnet network types.
5.15.585.0
7/22/2014
Added support for Weekly, Exception, and Calendar Objects. These objects are represented as custom formatted strings that can be read and written. For details and VB code samples, refer to the BACnet/IP Driver help file.
Fixed an issue that allowed array element tags to use a zero index. This is no longer allowed.
Increased the maximum device limit from 100 to 128.
Fixed a typo in the Event Log message for a failed COV subscription.
Fixed a UI issue where the Import File field was not disabled when the Import Method parameter was set to Device.
Fixed an issue where the driver could improperly convert integer values to floats when reading and writing.
Added support for BACnet Broadcast Management Devices (BBMD) to Device Discovery at the channel level.
Fixed an issue where communications would fail after initial Automatic Tag Generation with a BBMD.
Added support for a new discovery scope to send a Who-is/I-am to a specified IP address.
5.13.191.0
10/15/2013
Updated to allow the PresentValue Property Tag of the Schedule Object to be set to Read/Write.
5.5.94.0
2/18/2011
Fixed an issue where tags have bad quality if the response to a ReadPropertyMultiple command has multiple properties listed under a single object identifier.
Added support for discovering devices on a BACnet network.
5.4.131.0
10/28/2010
Added support for ISO 10646 (UCS-2) and ISO 8859-1 (Latin1) character sets.
Added a number of object properties to meet the 2008+ BACnet specification, in addition to support for simple array properties (arrays of primitive BACnet data types).
Increased the maximum number of channels from 32 to 128.
Added enumerated values and corresponding strings to support approximately forty new BACnet Error codes.
Added a new error class.
Fixed an issue wherein tags with a default client access of Read Only could not be set to Read/Write, even if Write access was allowed.
Addendum "Add-2004-135m" specifies a small change to the way segment ACK timeouts function. Before the change, Addendum timing started at the beginning of the Request window (during which one or more segments were sent). In some cases, this caused unnecessary timeouts for larger window sizes.
Now, the timer starts after the first segment is sent, after all the segments in the window (1 or more) are sent, or after the last segment is sent to the device.
Modified BACnetNetworkLayer to be able to route COV notifications from a device on a different BACnet network where NPDUs do not contain the source address. Although the behavior does not appear to meet the BACnet spec, this precedent has been set by the support of other vendors. A channel property was added to enable/disable this setting. It is disabled by default (since it could degrade performance if the BACnet network has a large volume of broadcast messages).
Modified the driver so that duplicate Device IDs are not allowed on a channel.
Increased the COV re-subscription interval maximum value from 1 hour to 24 hours.
Added an option for ALC devices to use a Subscriber Process Identifier (SPID) of 0. ALC devices consider all subscriptions with an SPID of 0 to be 1 subscription.
Added an option to wait for the device to acknowledge COV cancellations. This prevents the Runtime from shutting down until all COV subscriptions have been cancelled.
5.3.118.0
6/9/2010
Fixed issue where the driver did not ask for one of the object names listed in the device when requesting Auto Tag Generation one item at a time. This name is used when "Use Object Name for Tag Group Names" is selected under the "Tag Import" tab under "Device Properties".
5.2.133.0
2/18/2010
Modified driver to not repeatedly request the "Segmentation Supported" property from a device if the device returns an error to that request.
Fixed ATDBG when the device responds with an error to the Read Property: ALL command.
Corrected a problem with parsing a NotificationClass Object. This was causing ATDBG to fail with an internal test device, and generating default tags.
Resolved issue with permanent COV subscriptions.
Enhanced COV Subscription Request handling to improve performance
5.0.1176.0
7/22/2009
Fixed channel wizard issue that prevented user from moving to next page, incorrectly indicating that another channel was configured with same NIC and port.
Fixed an issue with processing "read property multiple" responses from certain brands of hardware, which resulted in toggling quality of all items associated with an object and repeated "device not responding" errors.
SUPPORTED PROTOCOL DETAILS
The official BACnet specification "ANSI/ASHRAE Standard 135-2001 BACnet A Data Communication Protocol for Building Automation and Control Networks" describes all aspects of the BACnet protocol. When using Kepware's BACnet/IP device driver, it is recommended that users be familiar with the standard BACnet objects and properties discussed in Clause 12 and the BACnet/IP particulars outlined in Annex J. The specification is available along with many other useful resources through the American Society of Heating, Refrigerating and Air-Conditioning Engineers, Inc. (ASHRAE) or the official BACnet website at www.bacnet.org.
The Protocol Implementation Conformance Statement (PICS) is available in the BACnet/IP product manual.
Featured Suites
What Is a Driver?
KEPServerEX is more than an OPC server—it's a connectivity platform for industrial automation and IoT. Simply download KEPServerEX, and then select from Kepware's library of more than 150 device drivers, client drivers, and advanced plug-ins to fit the communication requirements unique to your industrial control system.
A driver is a software component that enables KEPServerEX to meet the connectivity requirements of a specific device, system, or other data source. The driver handles all proprietary communications to the data source for KEPServerEX; the client interfaces handle all supported OPC, proprietary, and open standards connectivity to applications that monitor or control the devices.
Drivers may be licensed individually or in suites. Additional drivers can be licensed on demand as connectivity needs evolve.